Here's a great article in the FUSD Newsletter about Missions and Madness
6/24/22 | Coconino's JROTC Raider Team staying active during the summer break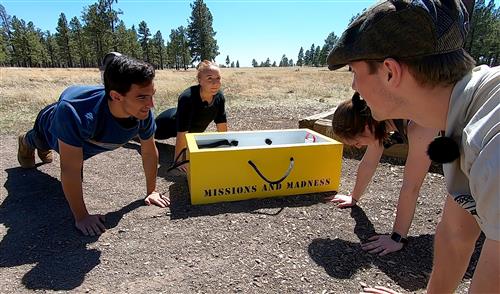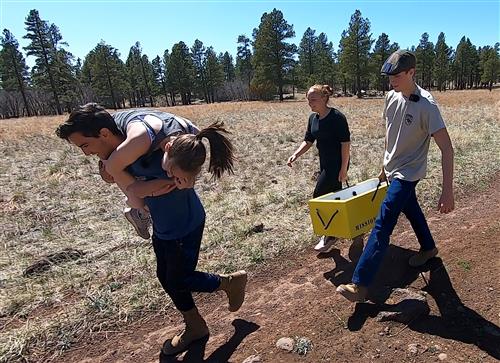 June 24, 2022
It is summer break for many, but the Coconino High School's JROTC Raider Team continues to focus on fitness and adventure training during the break.
Colonel Donald W. Morris, senior Army instructor at Coconino High School, explained cadets are playing a key role in the development of an innovative training program that teaches teamwork, leadership, navigation, and situational awareness.
"The cadets are pushing the new game, Missions and Madness, to its limits," said Col. Morris. "At the same time, the game is pushing cadets to their [limits] by putting them in the field to face imaginative scenarios and dealing with strategic puzzles. The game teaches valuable skills that are otherwise rarely addressed."
"As soon as I saw this opportunity, I thought how perfectly nested out JROTC mission and objectives are with the game's desired outcomes," said Col. Morris. "Since then, the cadets have just run with it."
"I think it definitely provides a new opportunity and [it] helps us think outside the box," said Elijah Thomas, team captain.
The outdoor adventure game was created by Morgan Boatman, a local entrepreneur, in response to the need for a customizable fitness program that is demanding and exciting as a cadre-led event that can be experienced anytime and anywhere.
"It's a natural fit," said Boatman. "The game, its methodology, and skillset are highly comparable with the JROTC ideology and competencies."
Harlee Peterson, co-captain, said during the game, each cadet has the opportunity and responsibility to lead the group.
"I think it's great allowing other people to step in and get the experience of being the leader," said Peterson.
Situational awareness, a crucial skill which is difficult to teach is integrated into every mission as KIM Drills.
"They keep you on your toes and are good at teaching you to be ready for anything," said Cadet Kai Huggard.
Cadet Taylor Wilkes explained the game encourages the principles of good citizenship, safety, appropriate decorum, and responsibility.
"It teaches decision-making and leadership because you have to take responsibility if you don't choose the right path," said Wilkes.
The Missions and Madness game played by CHS's JROTC Raiders can be viewed online at https://youtu.be/Fak4ZEeAamE
https://www.fusd1.org/site/default.aspx?PageType=3&ModuleInstanceID=34760&ViewID=7b97f7ed-8e5e-4120-848f-a8b4987d588f&RenderLoc=0&FlexDataID=48826&PageID=19391&Comments=true